The right ear cup controls the power and also houses four buttons. There are buttons for volume up, down, skipping tracks, etc. The center button is for play/pause/answer/hangup. There's also a button for voice assistant as well. The right ear cup is also home to the USB C port for charging and the spot for the wired headphone cable.
The left ear cup keeps things simple as there is one single button and it toggles through the ANC settings.
None of this would be helpful for Emmett if he couldn't wear them because they were uncomfortable. Fortunately, Emmett found them comfortable as well and that says a lot about the overall design because he's very picky/sensitive about these things.

Noise-canceling is fantastic. I've seen a few reviews where the state that it's not quite as good as the Bose but useless you're switching between the two and listening for a difference, you're not likely to notice. I didn't really notice a difference when switching between the two. I think it's subjective.
The Jabra Elite 85h does an excellent job of blocking out noise. If I needed to, I could easily drown out all the noise my kids make around the house. Emmett found significant relief from ambient noise while wearing them. One of my favorite things is the look on his face when he puts them on and turns the noise canceling on. You can see in his face that it's providing relief.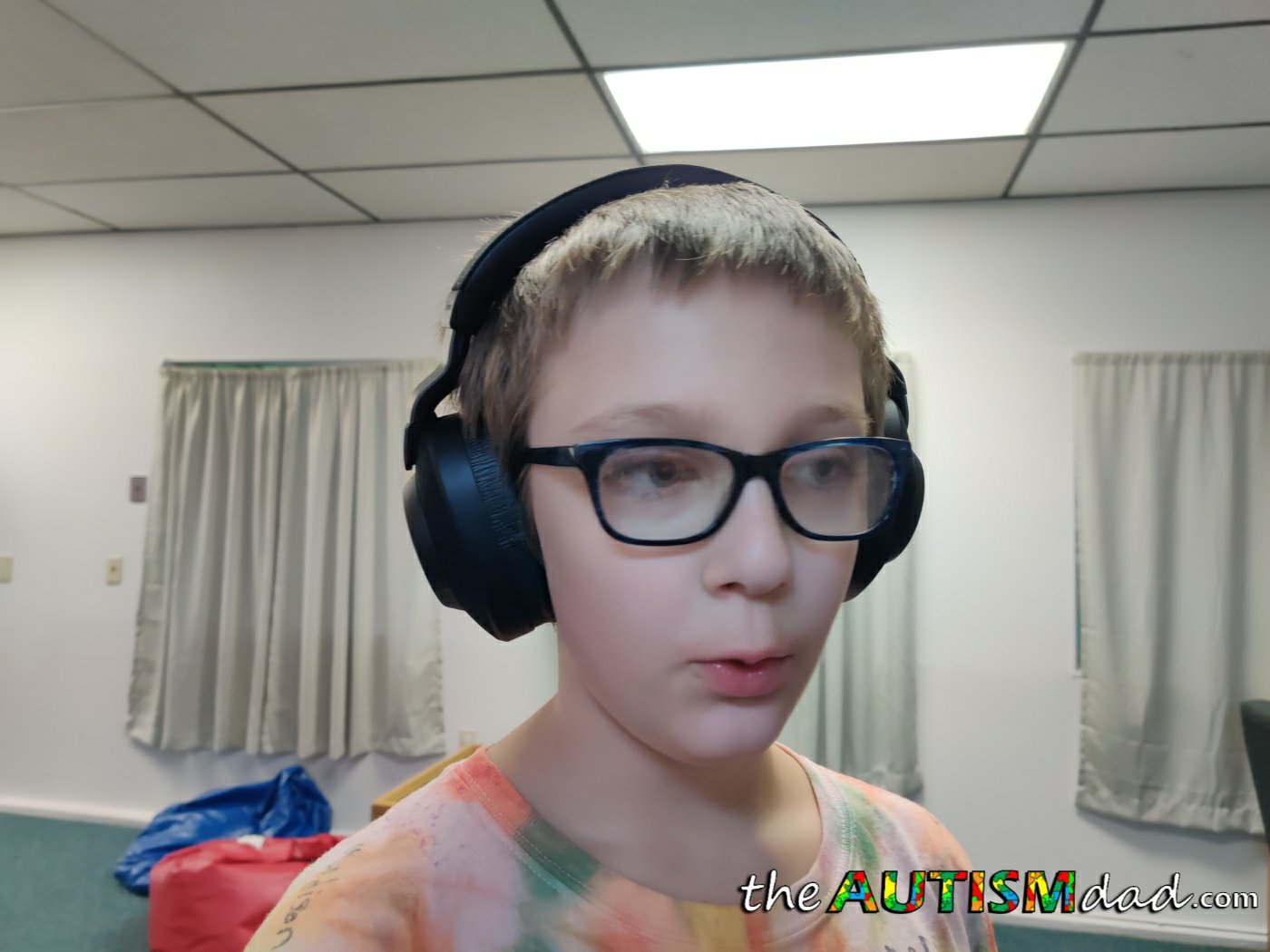 The Jabra app provides tons of customization options. You can customize the sound and update the firmware, directly from the app. You can also throttle the noise-canceling if you desire. There's even an option that allows the headphones to manage the noise-canceling automatically and will adjust according to the environment you're in. I found that works well for me but Emmett prefers the noise canceling to be on all the time.
This leads me to my favorite feature and that's the ambient noise pass through. I've mentioned this in other reviews and I'll say it again. This feature is a must for me and I absolutely notice it when it's missing.
The ambient noise pass-through allows you to have the headphones on, listening to whatever and still hear everything going on around you. Obviously, noise-canceling isn't possible while using this feature but it's a requirement for my personal headphones for a few reasons.
The pass-through allows me to hear my kids while listening to a podcast or music. It actually amplifies the sound around and increases my awareness of my surroundings. This is really important for me as an Autism Dad because I always need to be aware of what's going on with my kids. This is just something I really appreciate and Jabra's implementation of this is fantastic. In fact, it's probably the best I've used.
Perhaps you haven't thought about this but headphones like this can often double as a wireless headset for making and receiving calls. I used this feature a little bit on the Bose but wasn't blown away by it. It's important to note that the Bose QC 35II's are several years old and Bose has just released brand new headphones that are supposed to set a new gold standard, but it comes at a premium price. I've not tested them though.
Having said that, the Jabra Elite 85h's are fantastic for making calls. The calls sound great for me and the other party doesn't even know I'm on a headset. Background noise is significantly reduced and the call quality is superb. I'm very, very impressed and they have become my goto headphones for making calls now.