Usage Scenarios
In our house, we use Google Play music and the Link View allows us to either play music directly from Google Play via verbal command or we can stream music from our tablet/smartphone via the built-in Chromcast. You can also stream music the old fashioned way via Bluetooth if that wets your whistle.
We use Chromecast for a large part of our media consumption but it's nice to have Bluetooth available if you happen to be offline.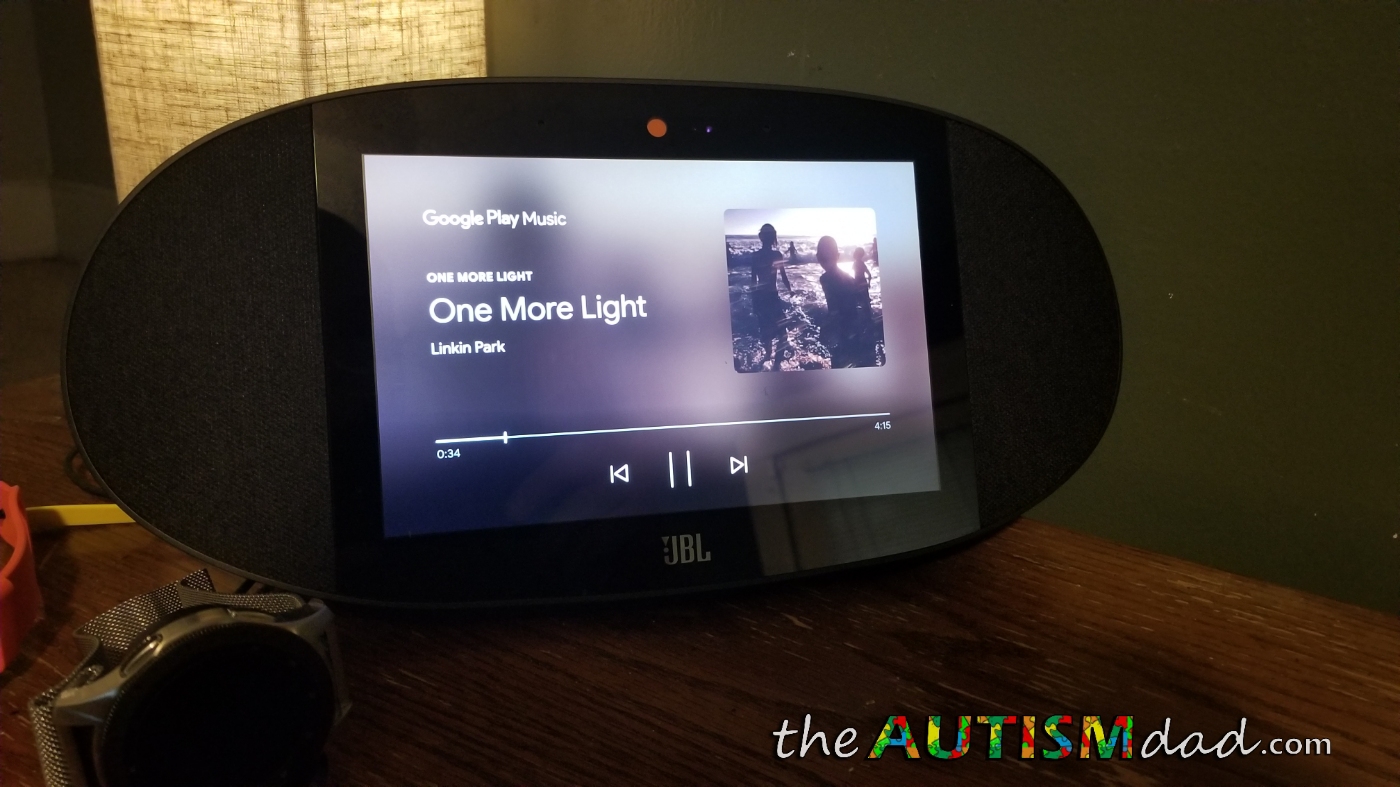 The sound is what you'd expect from JBL. It's really good and can be played at louder levels without distortion. It's perfect for filling a room with music, listening to audiobooks and even things like white noise. In our house, we are always listening to music because doing so can have very real benefits for kids with Autism.
Music has a positive impact on kids with Autism. In my family's experience, it can be calming, distracting and even help promote better sleep.
Above the screen is a 5MP camera for video calling using Google Duo. The Link View even comes with a built-in PrivacySwitch that covers the camera and mutes the microphone when not in use. I wish that came standard on more devices but sadly it doesn't. Kudos to JBL for including this in the Link View.
Video calls via Google Duo worked well and it's kinda nice to have the ability to make and receive video calls on something other than a smartphone or tablet. It makes for a really good, hands-free experience.
Google Home has become such an invaluable tool in our daily life and the addition of the smart display only makes it more useful.
We are always controlling lights, checking the weather, displaying recent pictures, playing music, asking questions, setting alarms/reminders, checking our schedule or managing our alarm system. The addition of a built-in display really ups the benefits and usage scenarios.
My kids are able to cast media, lookup and or play their favorite YouTube videos directly on the Link View. If you're an Autism parent, you're probably all too familiar with YouTube and the endless hours spent watching the same video over and over again. As annoying as it can get for us as parents, it's comforting for our kids and that's all that matters. The Link View is perfect for these situations.
My kids have been using Google Home to assist with homework related questions for a while now. The addition of the HD screen on the Link View allows the answers to be displayed right on the screen. Gone are the days of looking things up in the encyclopedia. Now kids can just ask Google and the most up to date information will appear right on the screen for them to read.
Straightforward and intuitive, the Link View is something that can benefit any family. The learning curve is almost nonexistent.
I'm very, very impressed with the Link View in my hands-on time with it.
Nothings perfect but aside from the sometimes finicky auto-brightness, I can't find any reason not to recommend this to my readers. It would be nice to see it a bit more portable by including a built-in rechargeable battery but I have my Link 20's for that.